SHIPPING POLICES
Fees
Our minimum shipping and handling fee for most all shipments via ground service to street addresses with in the continental United States. This fee covers a single standard size carton.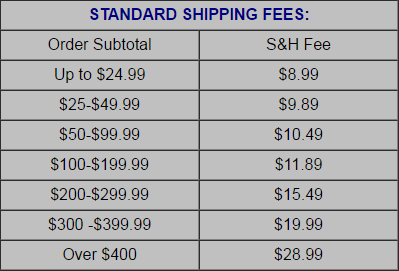 We reserve the right to alter or modify our shipping policies as conditions warrant.
Delivery Estimate
We ship most orders for in stock merchandise within 1-2 working days. If a product is temporarily out of stock that may delay your shipment. We will notify you if your order will be delayed more than 30 days.
Please understand that Hobby Surplus cannot guarantee* a specific delivery date nor accept responsibility for the actual delivery date of your order. Following these guidelines should help. To avoid disappointment we urge you to place your orders as far in advance of the desired delivery date as possible.
NOTE: UPS does not guarantee ground delivery times during month of December.
Estimated in transit days after package is shipped. Transit days do not include weekends.
Hobby Surplus to Northern New England, Metro NY & NJ : 1-2 Days
Hobby Surplus to Mid Atlantic, PA, Upstate NY : 2-3 Days
Hobby Surplus to Mid West & South (Regions: KY- MO, MN- FL) : 3-4 Days
Hobby Surplus to Mid West & South (Regions: ND - LA, MS ) : 4-6 Days
Hobby Surplus to West & West Coast ( MT to TX, WA to AZ ) : 6-10 Days
Back Orders
We strive to maintain a full and complete inventory of over 30,000 unique hobby and toy products. Many of the manufactures that we order from are small and occasionally may have difficulty re-supplying us on time.
The availability of an item is indicated by a blue "ADD TO ORDER" button or a red "OUT OF STOCK" button. For out of stock items we suggest that you check back with us often as we are constantly receiving deliveries and replenishing our stock. Once an item is back in stock the it status will switch back to "ADD TO ORDER".
Occasionally our inventory count will be off and an item indicated as in stock will not currently be available. Please use the special instructions section of our on line order form and choose one of the 3 options to instructions us a how to serve you in the event that an item you ordered is temporarily out of stock:
Immediately ship all in-stock items. We will back order items expected in 15-45 days and ship them separately. (Separate S&H Fee charged for each back order shipment.) OR
Hold your order until all items have been filled. (Note: After 60 days we will ship available items and cancel those we cannot supply). OR
Immediately ship all in-stock items and cancel items not available at this time. (We suggest that you re-order in 45-60 days.)